WISe.ART the Digital Art Platform of WISeKey, Unveils the Renaissance Coin: Revolutionizing Art Investment and Preservation with a Unique Blend of Technology and Heritage
Cooperation between WISe.ART Pedro Sandoval and Global Market of Artification (GMA)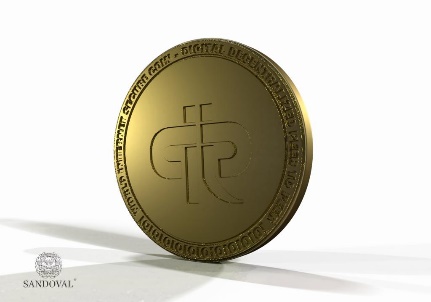 GENEVA/Madrid/Rome – November 13, 2023 – WISeKey International Holding Ltd. ("WISeKey") (SIX: WIHN, NASDAQ: WKEY), a leader in cybersecurity, digital identity, and Internet of Things (IoT) solutions operating as a holding company, today announced its WISe.ART subsidiary is unveiling the Renaissance Coin: Revolutionizing Art Investment and Preservation with a Unique Blend of Technology and Heritage.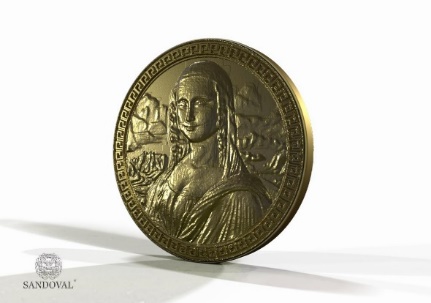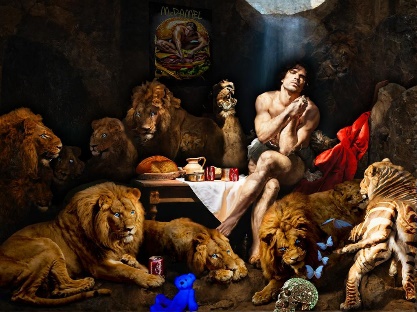 WISe.ART, a leading innovator in the digital art and luxury collectibles market, is set to launch the Renaissance Coin in January 2024, a groundbreaking initiative that marks a new era in art investment and preservation. This launch represents a significant divergence from traditional cryptocurrencies and NFTs, offering a regulated, secure investment avenue linked to tangible, physical art assets.
"The inaugural project of the WISe.ART Digital Renaissance initiative proudly features the exceptional work of renowned artist Pedro Sandoval, who is also the creative mind behind the exquisite medal showcased here. Embodying a fusion of contemporary artistry and classical inspiration, Pedro Sandoval is set to unveil a unique collection of Digital Renaissance Art, deeply influenced by the Italian masters. This captivating series, representing the first phase of the project, is poised for its grand unveiling at Davos 2024, heralding a new epoch in the blending of digital innovation with traditional art forms."
"WISe.ART, in collaboration with prestigious artists, collectors, museums, and galleries, is excited to introduce the 'Italy Digital Renaissance Project.' From 2024 to the 2025 Jubilee year, WISe.ART partners will embark on a significant endeavor to digitize the historical heritage of Italian Renaissance art using ultra-high-quality images and digital enhancements. This project represents a pivotal moment in ushering Italian art heritage into the digital age, making it accessible to a global audience.
As part of this initiative, a unique Renaissance coin will be introduced, enabling individuals to acquire remarkable historical treasures through WISe.ART. The project will connect art enthusiasts from around the world through the Internet, allowing them to explore and appreciate this extraordinary artistic heritage, some of which was previously only accessible within museums and historic buildings. Thanks to this technology, these treasures can now be visualized and enjoyed by people worldwide."
Revolutionizing Art Investments with Art Security Tokens: The Renaissance Coin is a pioneering venture, distinct from Bitcoins and NFTs. Operating within a regulated market framework, these Art Security Tokens provide legal protections akin to traditional securities like stocks and bonds, offering a secure and legally compliant investment option in the art world.
Bridging the Physical and Digital Realms: Unlike conventional digital assets, Art Security Tokens embody the value of physical artworks, creating a tangible link between the art piece and its digital representation. This integration fosters a novel investment experience that respects the legacy and materiality of art.
Advanced Technology at the Core: The WISe.ART platform leverages state-of-the-art blockchain technology, including the storage of digital twins as NFTs on Hedera blockchain. This ensures a secure, efficient, and transparent marketplace for trading luxury collectibles and artwork.
Balancing KYC and Anonymity for Exclusive Trading: In an innovative approach, the WISe.ART platform maintains a balance between Know Your Customer (KYC) regulations and user anonymity. This is facilitated through the use of the TrustECoin token, launching in May, enabling discreet yet compliant trading of NFTs.
Two Decades of Trusted Security and Authenticity: WISeKey, with its rich heritage in security and object authentication, ensures the highest standards of security and authenticity for the physical artworks and their digital twins, effectively minimizing digital counterfeiting risks.
Strategic Multichain Approach and Global Partnerships: Through strategic partnerships with Hedera, WISeKey fortifies its unique market position. This multichain strategy enhances the platform's capabilities in crypto market expertise and innovative data market offerings.
The Italy Digital Renaissance Project – A Digital Ode to Heritage: An integral component of this initiative is the 'Italy Digital Renaissance Project.' Aimed at digitizing the opulent heritage of Italian Renaissance art, this project opens doors to a global audience, offering high-quality digital renditions of historically significant artworks. This endeavor promises to bring the splendors of the Italian Renaissance to the fingertips of art lovers worldwide.
Connecting the Global Art Community: The Renaissance Coin and the digitization of Renaissance art herald a new age of global art engagement. This initiative enables art enthusiasts, collectors, and historians around the world to explore and appreciate masterpieces that were once limited to the confines of museums and exclusive collections.
WISeKey offers advanced cybersecurity solutions that protect digital communications and transactions, secure digital identities, and maintain the trustworthiness of electronic systems. Their key activities revolve around the secure provision of cryptographic root keys, management of a robust Public Key Infrastructure (PKI), and the generation and management of trusted digital identities.
About WISeKey
WISeKey International Holding Ltd ("WISeKey", SIX: WIHN; Nasdaq: WKEY) is a global leader in cybersecurity, digital identity, and IoT solutions platform. It operates as a Swiss-based holding company through several operational subsidiaries, each dedicated to specific aspects of its technology portfolio. The subsidiaries include (i) SEALSQ Corp (Nasdaq: LAES), which focuses on semiconductors, PKI, and post-quantum technology products, (ii) WISeKey SA which specializes in RoT and PKI solutions for secure authentication and identification in IoT, Blockchain, and AI, (iii) WISeSat.Space AG which focuses on space technology for secure satellite communication, specifically for IoT applications, and (iv) WISe.ART Corp which focuses on trusted blockchain NFTs and operates the WISe.ART marketplace for secure NFT transactions.
Each subsidiary contributes to WISeKey's mission of securing the internet while focusing on their respective areas of research and expertise. Their technologies seamlessly integrate into the comprehensive WISeKey platform. WISeKey secures digital identity ecosystems for individuals and objects using Blockchain, AI, and IoT technologies. With over 1.6 billion microchips deployed across various IoT sectors, WISeKey plays a vital role in securing the Internet of Everything. The company's semiconductors generate valuable Big Data that, when analyzed with AI, enable predictive equipment failure prevention. Trusted by the OISTE/WISeKey cryptographic Root of Trust, WISeKey provides secure authentication and identification for IoT, Blockchain, and AI applications. The WISeKey Root of Trust ensures the integrity of online transactions between objects and people. For more information on WISeKey's strategic direction and its subsidiary companies, please visit www.wisekey.com.
WISe.ART subsidiary is focused on the thriving NFT market, and provides a secure platform for NFT transactions. Its integration with cybersecurity and blockchain technologies offers a secure environment for NFT creation, sale, and exchange, thereby positioning WISeKey to tap into a lucrative and rapidly growing market.
Entering the NFT market allows WISeKey to diversify its revenue streams and broaden its client base to include artists, collectors, and investors. WISe.ART can monetize its platform through transaction fees, authentication and verification services, and premium subscriptions.
WISeKey's foray into the NFT market can bolster its brand as a leader in innovative digital solutions. This could enhance its appeal across other business sectors, potentially attracting more clients and driving higher revenue. Additionally, WISe.ART could act as a gateway for users to explore WISeKey's other offerings, leading to greater adoption of its cybersecurity solutions and contributing further to its revenue diversification.
About Pedro Sandoval
Pedro Sandoval, a world-renowned artists born in Venezuela in 1966 and currently living in Spain. He is closely associated with the abstract neo-expressionist movement. He manifested his artistic skills from an early age, and he was awarded the Young Master of the World Award in the Japanese city of Osaka at only six years old. His outstanding craftsmanship led him to the Cristobal Rojas school, in his native Venezuela, where he received classical training. Pedro Sandoval is interested in the alliance between figuration and abstraction and has worked with internationally recognized mentors such as Oswaldo Vigas or Jesús Rafael Soto.
After settling in Spain in the 2000s, he travelled to Germany where he met the most renowned figures of German neo-expressionism such as Georg Baselitz, Sigmar Polke and Anselm Kiefer. He joined their movement which Wolfgang Becker described as the "New Savages".
Currently, Pedro Sandoval focuses his research on both the new German avant-garde and the work of abstract American expressionists such as Hans Hofmann, Barnett Newman, Jackson Pollock or Cy Twombly. His works can be found in museums such as the Guggenheim in New York or in the contemporary art museums of Caracas and Boca Raton (Florida), as well as the collections of the White House, the Vatican Museums or the Kennedy's.
About Global Market of Artification (GMA
Global Market of Artification (GMA) is an innovative Dubai-based company, focused on offering NFT services. GMA offers a unique tokenization experience, enabling a new form of investment in world-renowned artworks. The platform enables the creation of a NFT that represents the digital rights of the artwork granted by the artwork's owner through a legal contract.
All the transactions are managed by the underlying Ethereum Blockchain. http://Gmartification.com
Press and investor contacts:
WISeKey International Holding Ltd 
Company Contact:  Carlos Moreira
Chairman & CEO
Tel: +41 22 594 3000
info@wisekey.com
WISeKey Investor Relations (US) 
Contact:  Lena Cati
The Equity Group Inc.
Tel: +1 212 836-9611
lcati@equityny.com
Disclaimer:
This communication expressly or implicitly contains certain forward-looking statements concerning WISeKey International Holding Ltd and its business. Such statements involve certain known and unknown risks, uncertainties and other factors, which could cause the actual results, financial condition, performance or achievements of WISeKey International Holding Ltd to be materially different from any future results, performance or achievements expressed or implied by such forward-looking statements. WISeKey International Holding Ltd is providing this communication as of this date and does not undertake to update any forward-looking statements contained herein as a result of new information, future events or otherwise.
This press release does not constitute an offer to sell, or a solicitation of an offer to buy, any securities, and it does not constitute an offering prospectus within the meaning of the Swiss Financial Services Act ("FinSA"), the FInSa's predecessor legislation or advertising within the meaning of the FinSA. Investors must rely on their own evaluation of WISeKey and its securities, including the merits and risks involved. Nothing contained herein is, or shall be relied on as, a promise or representation as to the future performance of WISeKey.
Source link